As an upgraded version of DC230, D260 adds a couple more interfaces for advanced application. Now D260 is equipped with two HDMI 2.0 ports, one 3G-SDI port and 2 USB ports(one USB Type-A and one USB Type-C)to ensure the scalability, It's capable for outputting in three ways: Independently, Combine multi-channel video flows or replicate of one single flow to stream simultaneously.
D260 supports "preview + output" mode, in which you can preview 16 video streams and select 4 of them to display on the screen for output simultaneously. This feature can also be used for monitoring (PVW/PGM).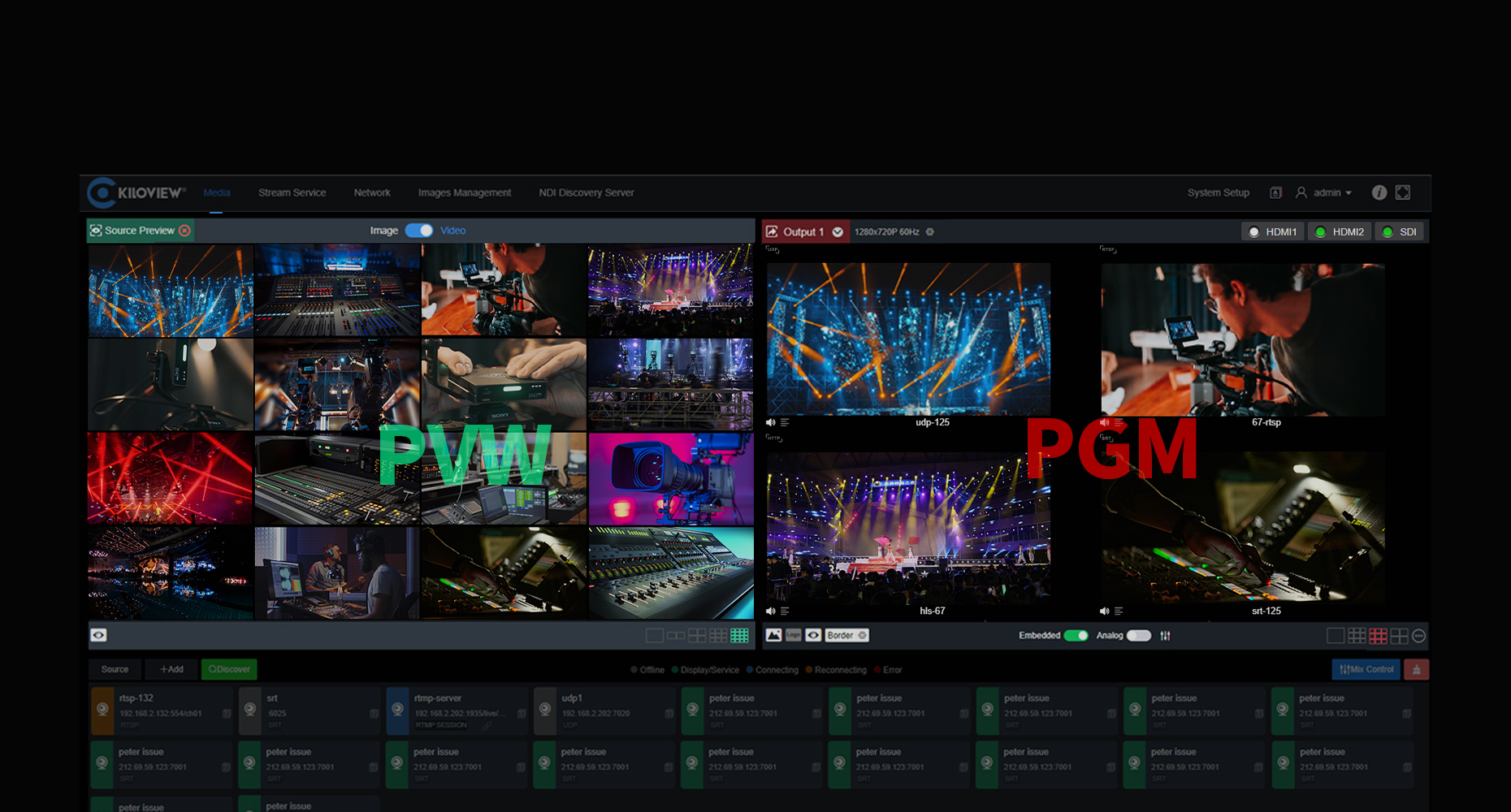 D260 is also super powerful in audio decoding. With a long list of audio formats supported including AAC/MPEG-4/MPEG-2/G.711/Opus/LPCM, It's also capable of switching audio On/Off, audio mix and audio gain in real-time to output alternatively through its HDMI ports, SDI port and 3.5mm line out port.
Custom multi-output display is also allowed for D260(including custom grids/PIP/simply drag and drop). All things about display(bit-rate and resolution) can be customized.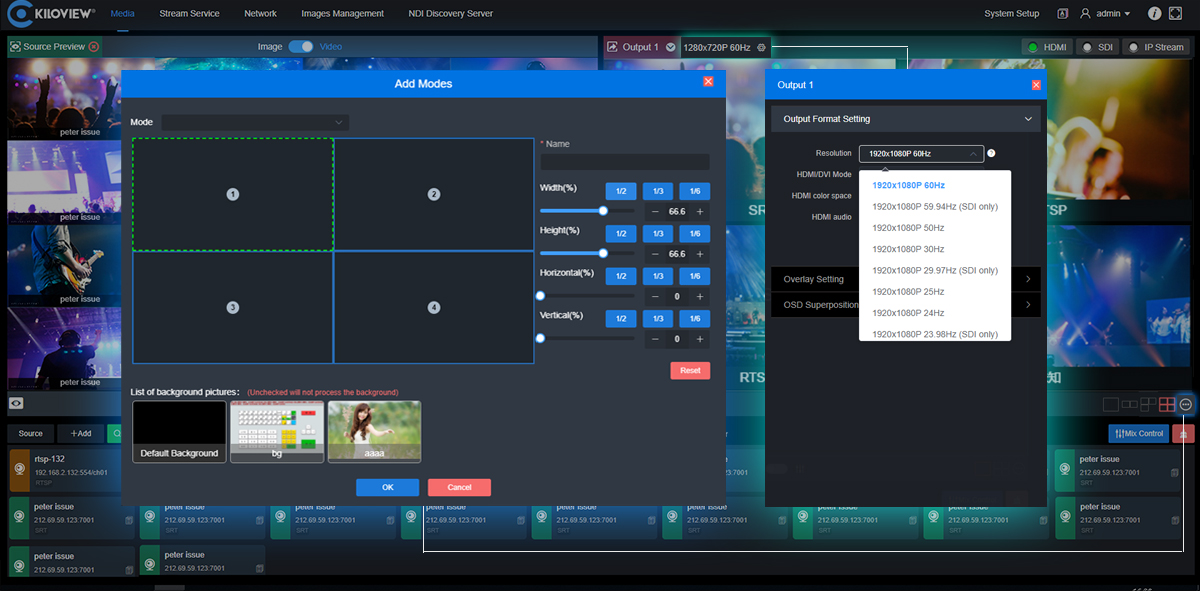 D260 is equipped with an LCD screen with touch buttons for a better user experience. With the built-in LCD screen, users can easily check transmission status in real-time.
Model
D260
Video Output
2*HDMI
1*3G-SDI
Audio Output
HDMI、SDI and 1*3.5mm Line out
Video Formats
H.264(AVC), Compatible with Baseline/Main/High Profile, up to Level 5.2;
H.265(HEVC)Compatible with Main Profile, up to Level 5.1
Video Decoding
4 channels of H.264(AVC)/H.265(HEVC) video streams in resolution of 1080p60
Audio Formats
AAC/MPEG-4/MPEG-2/G.711/Opus/LPCM
Streaming protocols
NDI|HX2/NDI|HX3*/SRT/RTMP/RTMPS/HLS/TS over UDP/RTP/ RTSP
(*: NDI|HX3 feature is under development and we will confirm when it has been certified by NDI.)
Display
0.96"LCD Display and Touch Button
Layouts
Custom 1/2/3/4 layouts
Intercom
Yes
OSD
Yes
Tally
Yes
Network Connections
Ethernet Ports: 2*10/100M/1000M
USB Ports
1*USB 2.0 Type-C
1*USB 2.0 Type-A
Power Supply
DC 12V/1A
Management
WebUI/KiloLink Server
Power Consumption
7W(MAX)
Size
162.85mm x 104.00mm x 25.00mm
Weight
328.18g
Operating Temperature
-20℃~60℃
Support Download
Docs & Firmware
Quick Comparison of our Decoders
Product Type
Product Model
Output Interface
Resolution
Decoding Performance
H.265 4K Video Decoder
D350
3G-SDI + HDMI 2.0*2
SDI: up to 1920×1080@60Hz;
HDMI: up to 3840×2160@60Hz
Up to 9 Video Streams Simultaneously Decoding, 1/2/3/4/5/6/7/8/9 Splitting Screen and Dynamic Switching Supported
4-Channel H.265 Video Decoder
D260
3G-SDI + HDMI 2.0*2
SDI: up to 1920×1080@60Hz;
HDMI: up to 1920×1080@60Hz
Up to 4 Video Streams Simultaneously Decoding, 1/2/3/4 Splitting Screen and Dynamic Switching Supported